Screenshot: Description: Traded a shelmet and a karrablast and neither evolved. Have tried clearing image caches.
Trade Station
═══════»«═══════
═══════»«═══════
Pokémon RP

+1

I had this problem some time ago, too.
Sorry for double-posting, but this issue is not solved yet. Just had another trade were it didn't work.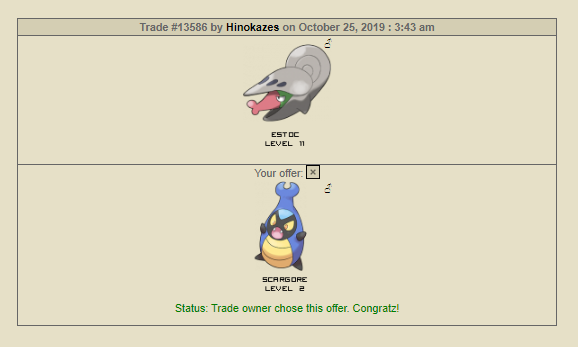 I can confirm what Yasha said, it didn't work, Karrablast didn't evolve after I received it :/
(also it still say it's level 1 for me despite clearing my cache but that's not the issue of this topic)
Chief of Operations
Posts: 4919
Joined: March 21st, 2009, 2:11 pm
Location: United States
Contact:
This might be fixed. I think it only affected Shelmet trades with Karrablast as the offer? Can someone test this or upload a Shelmet trade and link me so I can offer a Karrablast?