Make It or Take It Summer Contest 2012
WINNERS CIRCLE
QUALIFIED- will be receiving the Chocolate Mime Jr. Sundae
ChiipS, TsukiKitsune, _EmmO_, Scox, killerworm, Midnight-Sun, Yuugao, Strawberry Crescent, hajelon, Milly, sethless, Mars, _Lucario_, ---Arkani---, nicknoord, Tenshi, Miggyway, Aquana, PokeTrade, Pkknunes, Basil Hawkins, Lady, Ecco, neopetsgirl,
Annabeei, Ruby-Chan, XxEvil-ChanxX, Ichigo_Kurosaki, Keks, Hlyda, rayhino8, SteffJealousy, BlackMistress, Kittykato, Etikun, La Lapras, Shintana, shinieaurum, Desmond, Miezefratze, T-Bebi
GOOD - will be receiving the Chocolate Mime Jr. Sundae and the Iced Tea Swoobat
Leafeon, Deidei-chan, koko, DemonPrincess, xNozomix, Tomoaki, Jadechan, Heili, Neo, Eminos, Stella Maris, Jeanne_darc,
sarasa-chan, BlackViper, Shion, Strohhut-Robin, luluna, Ferby, Golden Flygon, Sephirot Strife, Lightning Farron, AshtrayHeart, Guardian_Eatos, I Love Cookies, Hexenmeister, Franky228, Saiura, KöniginDerNacht, Bloodangel, K-Y, Zaje, Larnia, Ginta, Catherine, krazie, Tune, Raikielia, Flamaij, Varlet, Yeira, Corindia, TOUYApocky, Jemma, TamTamChan, Baka-tan, mauwie, blue4nic, inuyashagirl521, Ine The Firewalker, ToxicTosh, Chocoliina, Stevie, lunix, Askara, Papilusion, BushBash, Kaze, Ash Monferno, Tea_and_Fairies
BEST - will be receiving the Chocolate Mime Jr. Sundae and the Iced Tea Swoobat and the Cherry Mime Jr. Sundae [aka - SHINY]
Limashi, leuchtmorgel, SokkaChan, Ramu, JipHasard, Catslover, Sennyo, Ryou_Kimura, Shiroyama, KopierKatze, archiza, Requiem, Curan, MewMisaki, SaikaSayuri, a-chan, hayami, GreenBerry, Hijikata, _Cyre_, Yoshiki, Niobe1987, Green Okido, Aruna, herosfreak, Sarika, Tigerness-, Red Senpai, TsukinoRan, SeveR, Su-licious, Noema, Meme, Bastet,
Schichibukai Law, MiaLily, AyakaShika, Cat_dream, Black Kyurem, Lunatic, Silverchen,
If your name is spelled incorrectly please let me know ASAP so I can send Yankees the proper spelling.
If you have concerns or any questions/comments (negative) please feel free to pm me at any time, and I will answer them.
Thank you all again for joining the contest, it was a lot of fun.
*huggles*
---
Hello Everyone!


Here are a few rules that you MUST follow when creating your entries, or you will be disqualified:
1) The entry must relate to Pokemon in some way. If I can't see how it relates then you won't qualify.
2) Any art that you use has to be YOURS! This means your original art, though you may use VA art for this contest. Any art that is found to be copyrighted or not your own, will be disqualified and the user banned.
3) The Final Project photos you take MUST include your username and Virtuadopt somewhere in the photo. It CANNOT be digitally added afterwards!
4) If you have been banned from the forums at any point during the duration of the contest, you will not be allowed to enter.
5) You may only have

ONE

entry. Obviously you can do different things while planning your entry, but your final entry must be a single product. If it is an art project you can have multiple stages of development, as long as they all represent the same thing.

The following things aren't rules, but they are general tips for entry:
1) If you don't know something, ask me!
2) You have 6 weeks for the contest, so please use it. Rushed entries that look like there wasn't any time put in will not receive a good score.
---
This contest has two different projects that you may choose from
Project One - Make It
Design a Mosaic Pokemon from any image from our Virtuadopt Pokedex
you can ONLY use the images from the VIRTUADOPT pokedex.

DO NOT

add to them and

DO NOT

use your own images

This is a Mosaic
You can use tiles, construction paper, paper, macaroni, popcorn, beans, foam, peas, eggshells, rocks, gems, etc.
It is up to you which medium you choose to use for your mosaic, but you must use a Virtuadopt UNALTERED Pokedex image. This way, everyone is using the same artwork, and no one has any advantage 'art wise' over anyone else
To design your squares, just decide how small or big they will be, where the colours will be, and then cut the mediums accordingly. Ensure you have the proper adhesive for the medium. White glue usually works the best for all, when adhering to paper
[/color]
Project Two - Take It
The weather outside is changing for everyone. Some have summer, and some have winter. What would be wonderful, would be to see some wonderful pictures of some of this weather, especially with pokemon involved.

With this project you have two options.....

Option A:
Take a picture of something that looks like a Pokemon - example: A cloud that looks like a Woobat, or a leaf that looks like a Kahuna, or a bush that looks like a Burmy.
Now of course, these items will not look exactly like the Pokemon and that is to be expected.
I am not looking for a perfect match. I am looking for a similarity, and what made you see that Pokemon in that item.

You may NOT alter the item in any way...if the item is altered, it is not allowable to be entered. Remember to add to your picture, your name with Virtuadopt, along with a brief description of what made you see that Pokemon in that item.


Option B:
Take a picture of Pokemon in a season based theme - example: Pokemon at the beach (summer), or Pokemon ice skating (winter).
You have 6 weeks to work on this, so please ensure you come up with something nice. You can use any Pokemon for this - stuffed Pokemon, toy Pokemon, Pokemon cards, Pokemon dolls, etc.

Please include a brief description to go along with your picture, as well as your name and Virtuadopt.
---
Please make sure all of your links work, and that all photos are uploaded somewhere that everyone can see.

Most of all - HAVE FUN!

Here is the wonderful prize that UkeSora has designed for the Contest.




Chocolate Mime Jr. Sundae & Cherry Mime Jr. Sundae

what is this?
someone else has decided to join the contest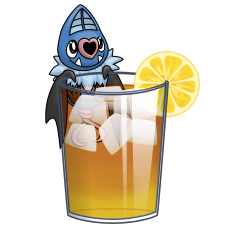 Iced Tea Swoobat
designed by Nautilus